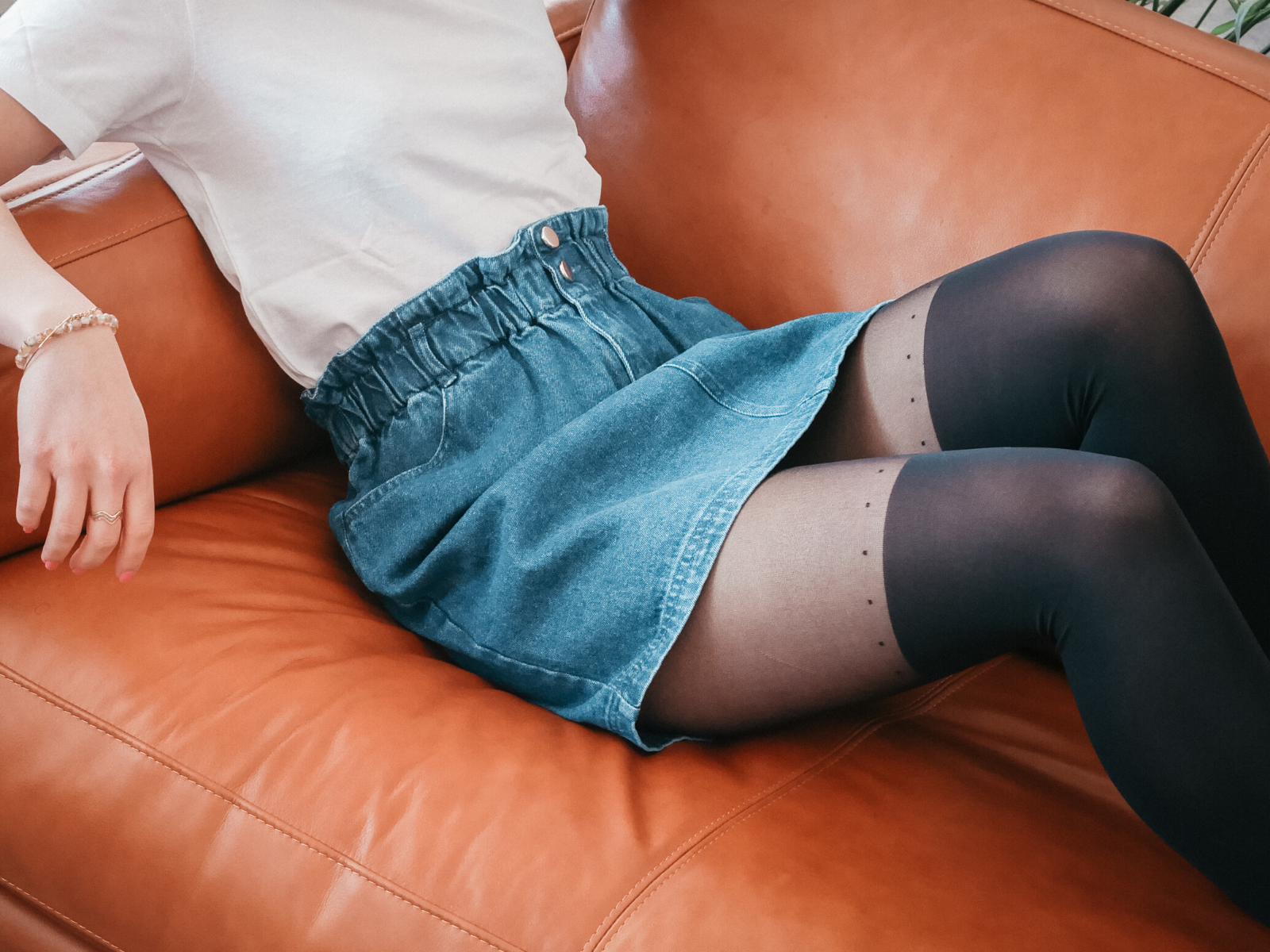 May 06, 2020
12 Ways to Wear Over-the-Knee Tights at Home
No matter the season, over-the-knee tights are a wardrobe basic that I love to wear again and again. Even while most of the world remains on lockdown, I have come to embrace many over-the-knee tights styles for my daily #StayHome outfits. 
Why am I opting to wear OTK tights even at home? That's because of the infinite wardrobe possibilities, of course. They pair well with shorts, they pair well with dresses, and they're surprisingly comfortable. They come in a variety of styles too, so you can choose the perfect finishing detailing to complete just about any look.
Opaque until the thigh and sheer the rest of the way up, OTK tights remain a fun and stylish wardrobe option for the spring season - just see below! 
Here are 12 outfit ideas for spring to create with over-the-knee tights!
With black denim 
Shorts and tights are a classic combo. Opt for a pair in black denim for a play on materials that's sure to add some edge to your outfits. 
With a sheer top 
Play with materials and wear OTK tights with a sheer top for a flirty look that's both classy and fun. 
With a flowy midi skirt 
While you're probably used to pairing your tights with a mini skirt, why not try pair them with a midi skirt? The ¾ skirt trend is here to stay and OTK tights provide an unexpected twist. 
With a denim dress 
The denim dress is a classic wardrobe item that you can reinvent with just about any pair of OTK tights. 
With a paper bag skirt
The paper bag waist trend pairs to perfection with OTK tights. Opt for a denim option for a timeless and casual look. 
With a statement top 
Have fun with prints and opt for a statement top for a look that delivers double the impact when paired with OTK tights.
With a colourful dress
Nothing says spring more than colour! Pair OTK tights with a dress in a pretty hue and you'll have a spring approved outfit in no time. 
With a t-shirt dress 
For another easy and basic look, simply rock a t-shirt dress with these tights and you'll feel comfortable and stylish all day long. 
With jean shorts 
Jean shorts and OTK tights is another winning wardrobe combo that you can run errands in or simply lounge in all day. 
With a sweater
For those chilly spring mornings, pair OTK tights with an oversized sweater. The play on proportions will create a trendy look that's equal parts chic. 
With a printed blouse 
Complement your OTK tights with a pretty print by finishing your look with a bright coloured printed blouse.
With layers
Create a layered look by combining OTK tights with a layered top and dress and you'll feel stylish in no time. 
How will you wear over-the-knee tights this spring? 
Xo, 
Rachel
Related Articles