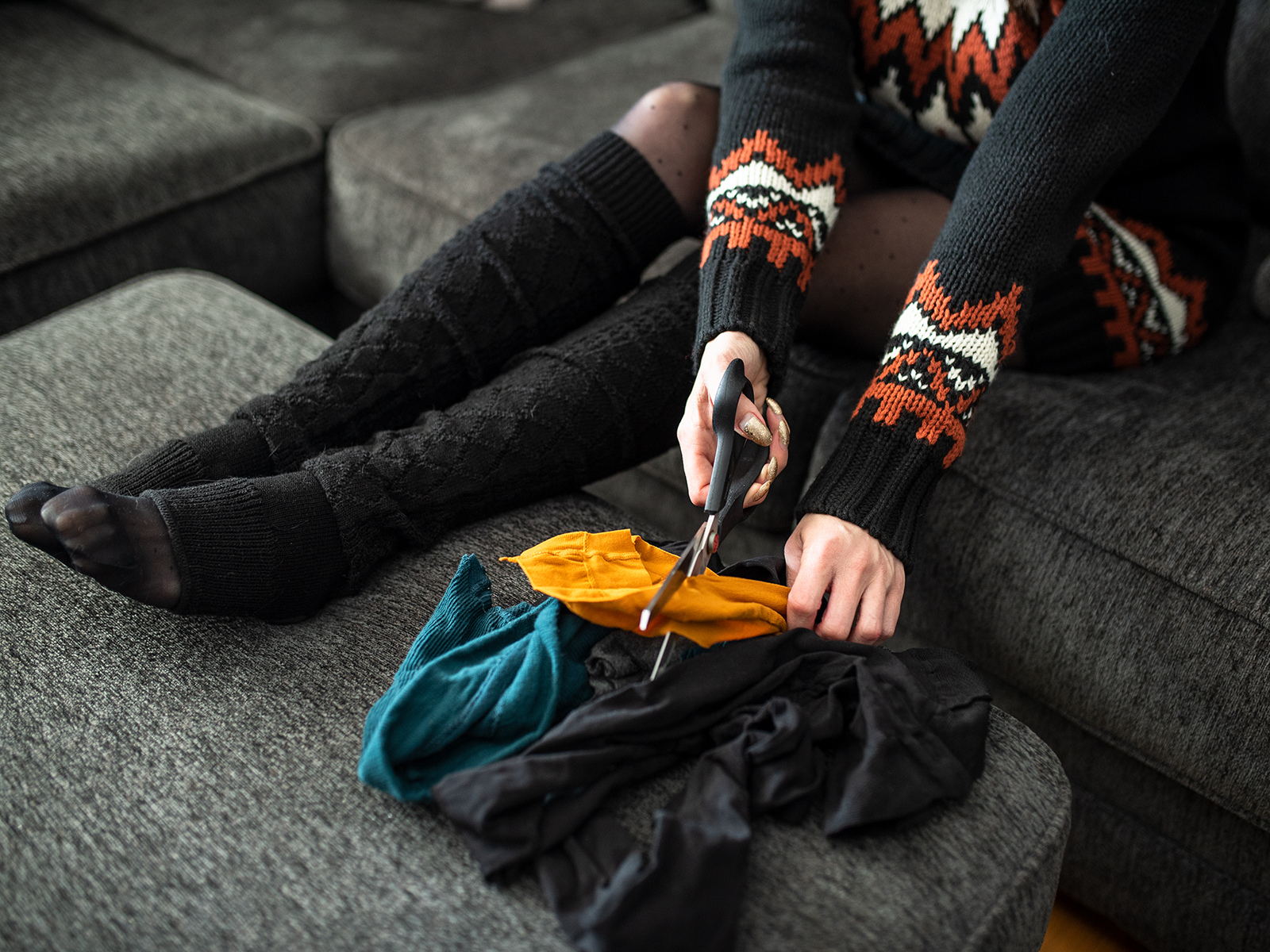 Feb 17, 2021
4 Surprising Ways to Upcycle your Tights
I have a lot of beautiful tights, but with my long nails I end up ripping more than my fair share. I'm always looking for unique ways to reuse my tights because throwing these pretty tights away just seems downright wrong! Fortunately, there are many ways you can upcycle your tights and give them a second life. 
Here are 4 fun and unique ways to repurpose your tights! 
Things you'll need:
Thread
Needle
Elastic
Squeaker
Tights
Scissors
Glue gun
Dog toy
If your dog is like mine, she'll take all the toys she can get and so, what better way to reuse your tights than to make a pal for your pal? You can make any shape or animal you like. I made a quick elephant pattern out of paper and pinned it to the tights. Next, I cut around the shape with two pieces of material for both the front and back. Then take the pattern off and pin the two sides together and do a quick hand stitch or blanket stitch around the edges. Right before you have it all sewn up, stuff it with pieces of tights and a little squeaker. Once you finish sewing, you'll cut out the shape of the ear and do the same thing. Finally, attach the ear and stitch in a little eye and get ready to play!
Wrapping paper
I'm always looking for cute and different ways to wrap my gifts and adorable patterned tights that I can no longer wear have become a great option. I just cut off one leg from my tights and squeeze it over the box. Next, I cut the excess and then use a glue gun to glue the ends to the box. Then, I take roughly a 6-inch piece from another pair and stretch it out to make a bow. Voila, you've got an ultra-cute wrapped gift for anyone! 
Hair bow
Hair bows are so in right now, but they can be pricey for what it is, so why not make your own?! They're super easy to make and, bonus, they take little to no time to create. Just cut horizontally along the leg of your tights (this one was about 4 inches wide). Then, take a small elastic and put it into the center and tie a knot in the middle of the material with the elastic inside the knot. Pull the ends to make it just right and you've got a bow for your hair. You can also use a bobby pin if you just want to clip it in. Now how cute is that?!
Tote bag
There's always a need for a small bag, especially when we travel, to carry little things like pills, glasses, oils, snacks - the list goes on! First, cut out a small hole in the crotch of your tights for the opening. Then turn them inside out and sew the waist together. Flip it right side out and cut the legs to the length you want the straps to be. Sew the ends of the two legs together. I added these cute little bows for some flair and to hide the seams. Just do the same as you did for the hair bow, but with roughly 1-inch strips and glue them on the front. I also tied two extra strips of tights around the straps to add more bows. Fun, functional and cute, what more could you possibly want?!
So instead of throwing out your tights try your hand at some or all of these unique ways to reuse your tights!
Xo, 
Sarah
Related Articles