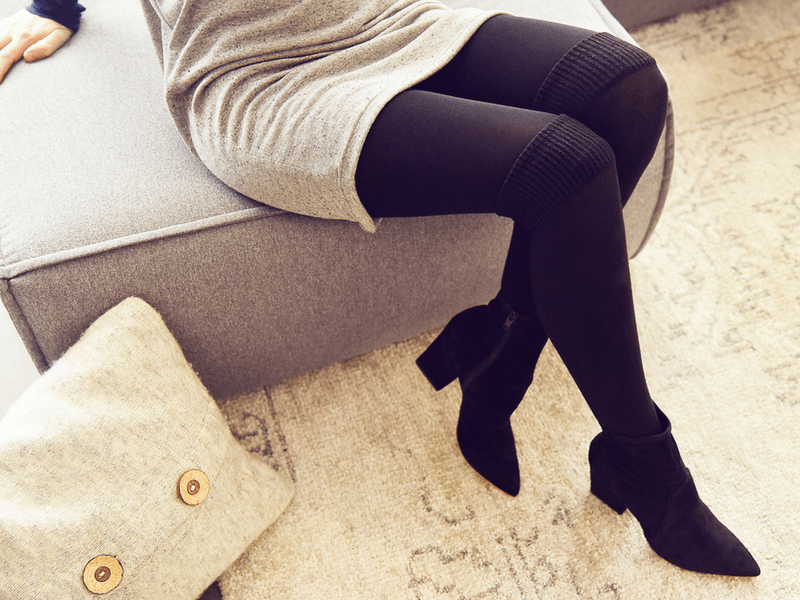 Feb 01, 2019
4 Ways to Style Winter-Approved Over-the-Knee Tights
Our best-selling over-the-knee tights have been updated for winter to help stylish women everywhere brave the cold in style.
This winter version of our otk tights mimics a high-sock and then a sheer tight the rest of the way up! It's the best of two worlds: You get great style and warmth with no need to constantly adjust your high socks!
If you're a fan of our other otk styles, you're sure fall in love with this winter version. What's more, they're way easy to style! I have 4 outfit ideas to get you inspired.
Here are 4 outfit ideas to wear winter-approved over-the-knee tights!
Cosy chic
Get a cosy chic look by layering up! Our winter-approved otk tights pair perfectly with a grey dress. For a pop of colour layer a blue long sleeve shirt under it and complete your look with a fabulous pair of booties.
In colour
Wear shorts in the winter by combining them with tights. Our winter-approved otk tights pair well with simple black shorts. Complete your look with a bright shirt in mustard yellow and you have a colorful look that's perfect for work or Happy Hour.
Sweet and casual
For a casual look that's still polished, wear our winter-approved otk tights with a relaxed dress. We love this dress option from Eve Gravel, which is worn with a long sleeve black top underneath.
Feminine
A shirt-dress with long sleeves is a blogger favourite! For a simple and feminine look, wear a shirt-dress in a bold hue with our winter-approved otk tights. This is one outfit you'll want to wear again and again.
How will you wear our winter-approved otk tights?
Xo,
Rachel
Related Articles