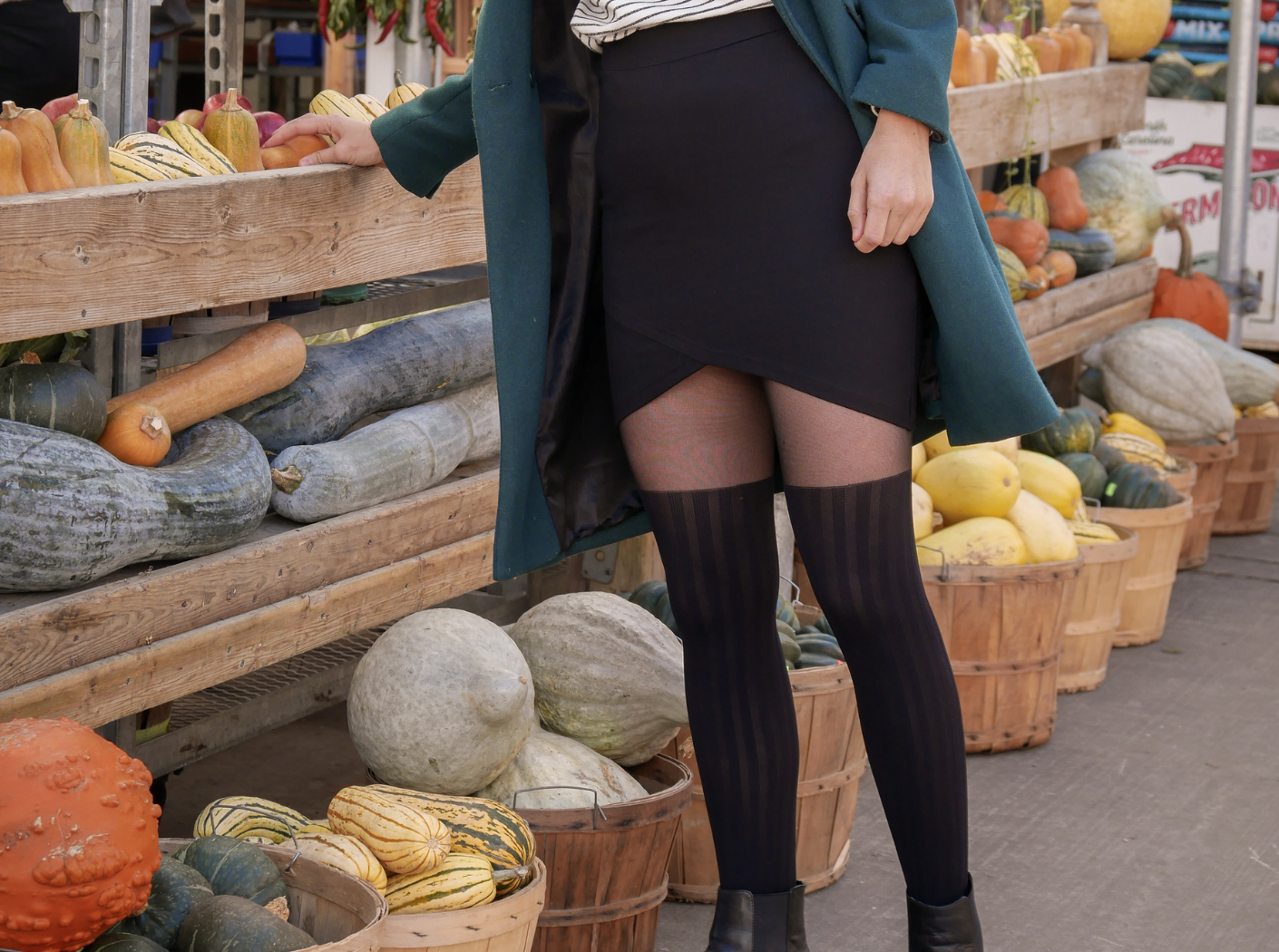 Oct 11, 2021
5 Reasons to Wear Tights this Fall
There's a lot of things we love during fall: pumpkin spice lattes, sweater weather, bright coloured leaves and of course, fall fashion. 
Fall is without a doubt the best season to wear pantyhose and the time of year I look forward to the most. As during any other season, a pair of tights can elevate your style instantly, but there's also a few other reasons why you definitely should stock up on hosiery this season.
Here are 5 reasons why Fall is the best season to wear tights!
To stay warm
Now that fall has arrived, it's time to face the cold! Fortunately, whether you wear stockings this fall with a dress, a skirt or jean shorts, they will provide an extra layer of protection to keep you warm, all while keeping you stylish. To stay as warm as possible this season, shop for a pair of pantyhose that have a higher denier, like our collection of opaque tights. 
To keep wearing your favourite dresses and skirts
If you thought that the new season meant you had to put away your favourite summer dresses and skirts – think again! You can easily transition your summer wardrobe into fall by combining them with pantyhose in a variety of styles. Not only is this a budget-friendly option to update your fall wardrobe, it's also sustainable and a responsible fashion choice.
To wear all your favourite shoes
Fall weather can be unpredictable and that means you might have to resort to booties, rain boots, running shoes and everything in-between. Fortunately, stockings is a women fashion staple that go with just about any outfit and will allow you to wear everything from your Converse to even your sandals well into the new season.
To add colour to your looks
It's easy to get stuck in a style rotation that consists of minimal outfit variations of black clothes on black tights, and various shades of beige and grey. Why not adding a little pop of color with one of our colored tights? (Just like I did with these burgundy tights!)
To hide any insecurities
I must admit I'm sometimes insecure about how pale my skin can get during fall and winter. We all have some insecurities, but I don't let them stop me from wearing the clothes I love. Luckily, hosiery can help give me that extra boost of confidence I need to wear my favorite skirts and dresses into the new season. 
Xo,
Rachel
Related Articles