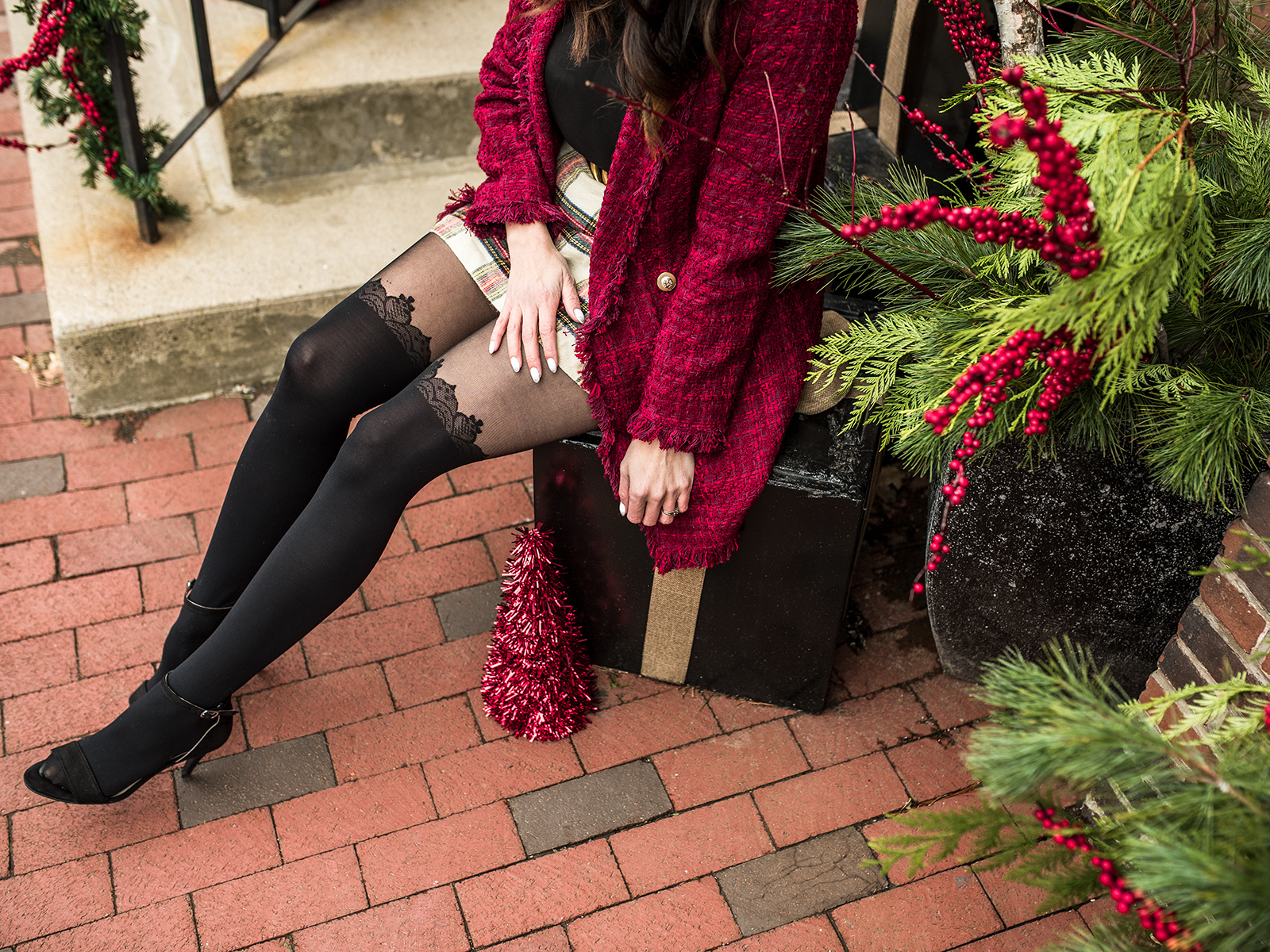 Dec 09, 2019
Easy Tips to Make Your Outfits Holiday Ready
It's my favourite time of year and I've been impatiently waiting to get all of my holiday looks together to start the festive season the right way. If you're in need of inspiration, I have a few holiday dressing tips to add to your wardrobe so you can feel festive and fabulous this holiday season too.
Here are 4 styling tips to make your outfit holiday ready! 
Mad for Plaid
Plaid is a fun print to wear all year round, but if you pair it with just the right colours and accessories, you'll be holiday ready in no time. Plaid in shades of red or green scream holiday, but any plaid print will do when combined with holiday colours (hello, red accessories). Some great holiday colours to choose from include burgundy, green, mint, red, gold, silver, blue and really any jewel toned shade.

Dark Florals
This outfit is a little more casual with booties, but with the right pair of heels it could be party ready real quick. If you love to dress festive all season long, this is the ideal outfit to go from day to night thanks to dark florals in deep jewel tones. Note, a berry red or a dark green will have you feeling holiday ready, but not too "Christmassy" compared to wearing bright red and Christmas green. 

Tulle
Tulle is the best way to dress up any look, as it screams party girl. Add a holiday inspired colour like mint green and you're sure to be looking festive and fun! If you can't find a tulle skirt, then you can easily make one for super cheap. Get an elastic for your waistband, pick out the color tulle of your choice and stitch as many layers as you want for volume to the elastic. If your sewing skills aren't perfection then add a belt to cover up any mistakes. Cheap and easy, what more could you want?

Tights
The right pair of tights can finish off all of your holiday looks and help you keep warm and look fabulous - talk about a win-win. Rachel has many fun holiday inspired options to choose from including Glitter Tights and various styles of everyone's favourite Over-The-Knee tights. With so many options to choose from, the only problem you'll have is deciding which adorable pair you'll wear.
So with a dash of plaid, a sprinkle of dark florals, a pinch of tulle and the perfect pair of tights, you'll be taking your holiday style game to the next level in no time! 
Xo, 
Sarah 
Related Articles