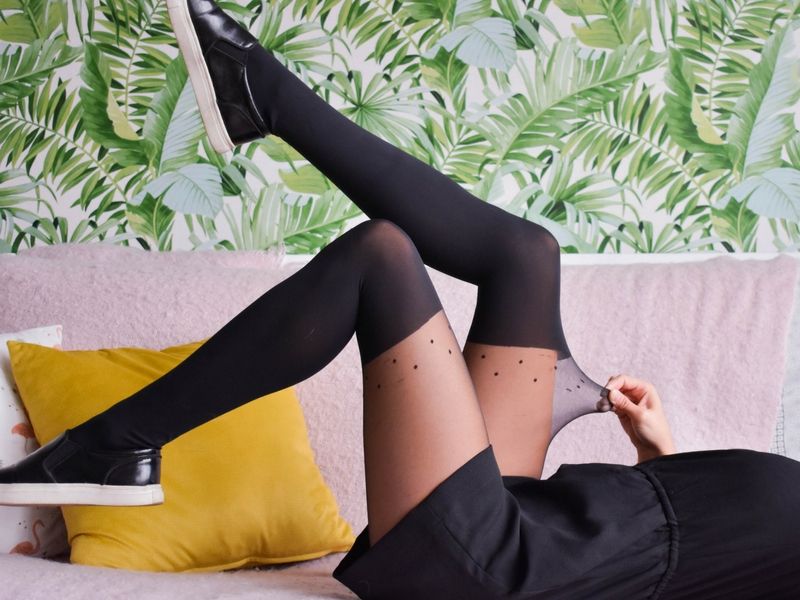 Oct 02, 2021
How to fix a Snag in your Tights in 3 Easy Steps
I hate runs and snags in my tights as much as you do, and I do my best to try and avoid them. There's nothing worse than wearing a killer tights and skirt combination, only to eventually look down and discover a rip – Am I right?!
The bottom line however is that tights are delicate and the best way to fix runs in your tights is to stop them from ever happening.
Tights are made of a thin knit fabric, created with a circular threading machine that uses a number of fine threads. Essentially, runs in your tights are caused when those threads get pulled, which can be triggered by just about anything.
Before a run appears in your tights (one of those rips there's no way you can get away with), a snag will first appear. A snag looks like a dark line running through your tights and they appear when the threads in your tights get pulled. But don't panic, there's actually a way to fix a snag in your tights! By fixing these small snags before wearing your tights a second time, you'll be less likely to cause a rip, which would leave your tights basically unsalvageable.
To fix a snag in your tights, there's just a few steps to follow, but they must be followed with absolute caution and care.
Here's how to fix a snag in your tights in 3 easy steps!
Step 1
Identify snags in your tights which look like dark lines. They can be small or big, but in both cases you'll want to fix them.

Step 2
Gently pull on the sides of the snag (to the right and to the left) with extreme care. When pulling, you should see the black line start to disappear or get smaller.
Step 3
Gently rub where the snag was previously present and watch it disappear completely. Now, your tights are snag free!Sometimes accidents happens and runs and rips in your tights are just unavoidable. When all else fails and you end up with a run in your tights, put a clear coat of nail polish around the rip to stop it from getting any worse. Hairspray also works as an adhesive and will stop a run from worsening.
Xo,
Rachel
Related Articles