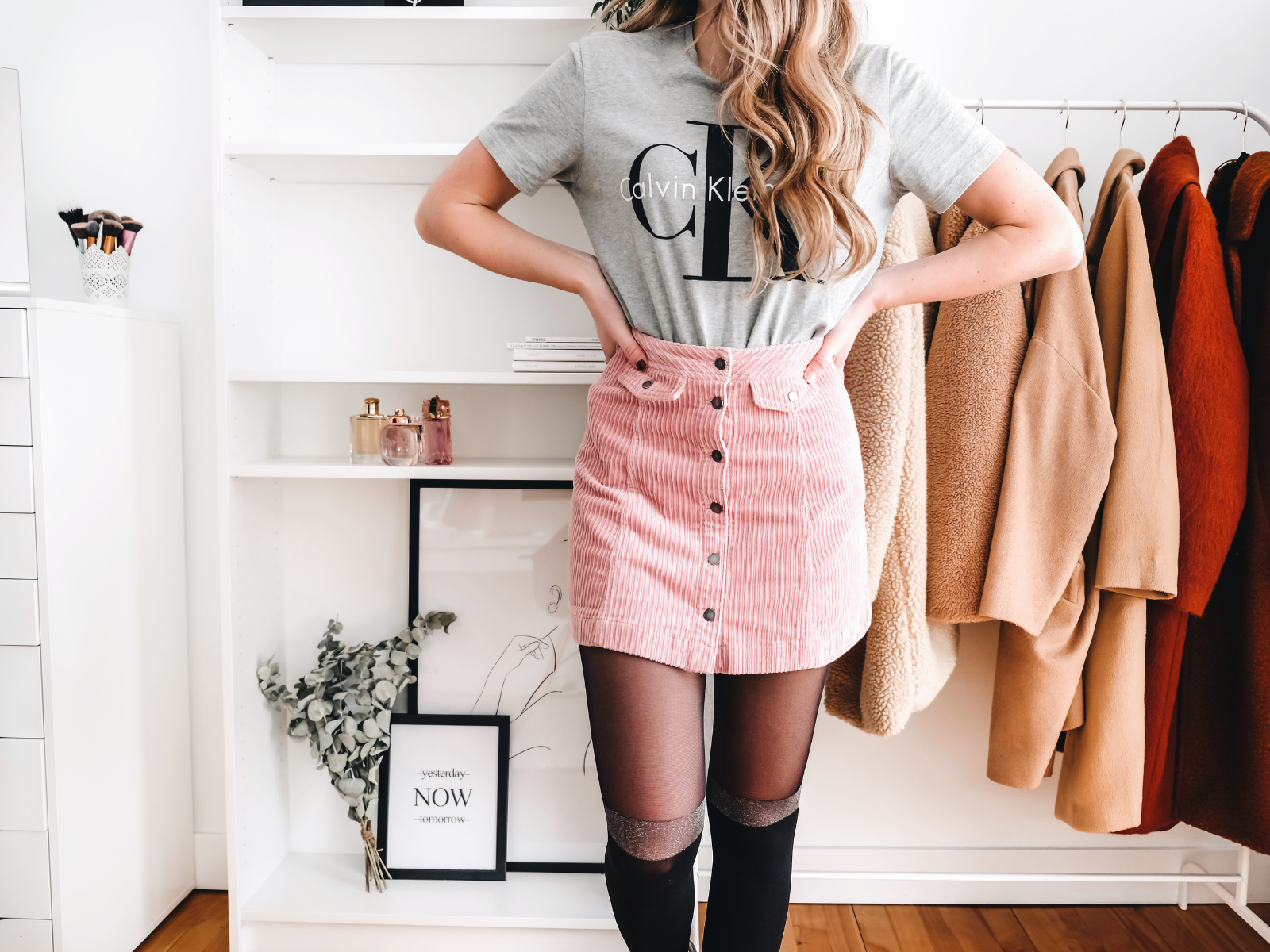 Jan 02, 2019
How to Wear Glitter Tights After the Holidays
It's nice to have beautiful clothes for the Holidays, but it's a bit lame to pay for pieces that you can't wear again once the Holidays are over.
Good news! If you fell for one of Rachel's three glitter tights styles (or all three), you'll be able to wear them again once the Holiday season is over.
I have a few tips and tricks to help you style your glitter tights with your everyday outfits.
Here are 4 ways to wear glitter tights even after the Holidays!
With a logo t-shirt
The logo t-shirt is a wardrobe essential. It's a must for your weekend looks, but also to add a casual touch to your outfits. The Calvin Klein logo t-shirt has been a must of mine for years. It's a timeless piece, so don't hesitate to spend a little more on it and to pair it with glitter tights.
With corduroy
Corduroy can easily be dressed up or dressed down. I opted for a corduroy overall dress and styled it with my logo t-shirt for a trendy, yet casual look. To instantly enhance your outfit, add glitter tights.
With jean shorts
If your shorts are lost at the bottom of your wardrobe, go find them immediately. Your jean shorts can be the star of your outfits, even in the winter. Style them with any type of glitter tights and complete your outfit with a wool sweater for a comfortable look. This is another great way to re-wear glitter tights everyday.
With winter boots
Don't be afraid to pair glitter tights with warm winter boots. This winter, I'll be wearing my Timberland boots with Glitter Back Seam Tights! They'll instantly add visual appeal to your looks.
Will you be wearing glitter tights after the Holidays?
Xo,
Justine
Related Articles