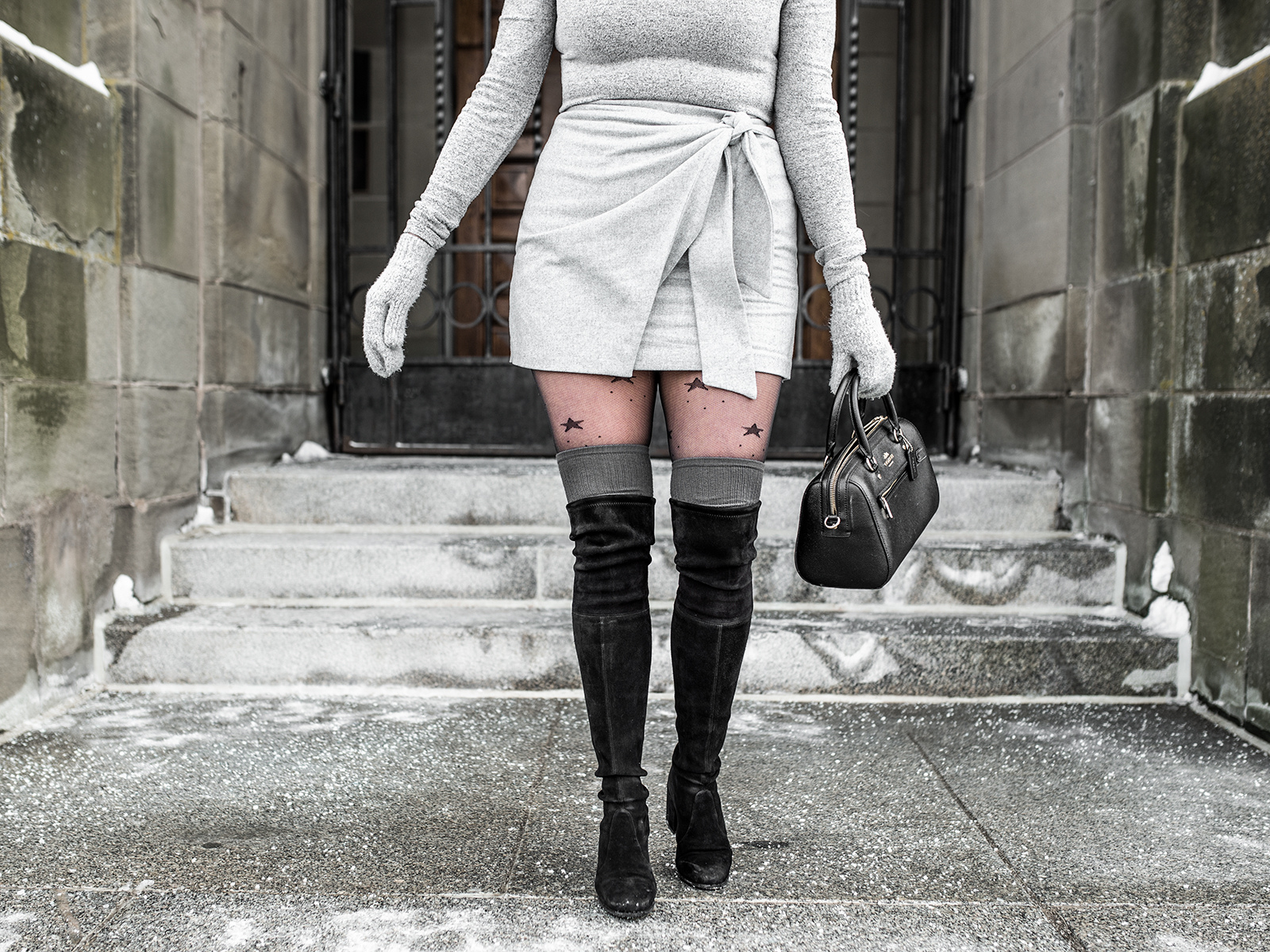 Jan 21, 2020
How to Wear Over-the-Knee Socks: 6 Styling Tips
Over-the-knee socks are a wardrobe staple for the cold months. They keep you warm and also help add dimension to just about any outfit. Still, it can be a little tricky to properly style them without looking like a schoolgirl (I get it).
Fortunately, you can adopt a few easy styling tips to wear this transitional piece successfully and benefit from the additional warmth they provide.
Here are 6 style tips to wear over-the-knee socks in a fashion-forward manner!
Wear them with sheer tights

Combine over-the-knee socks with a pair of sheer tights for extra warmth and for a more mature look. Choose tights that are sheer to create a contrast and add dimension to your look. This combination is sure to become a fall/winter go-to.
Have fun with different patterns
Wear sheer tights that have various patterns such as polka dots, hearts or stars with your over-the-knee socks. This little detail will allow you to constantly reinvent your looks and again add dimension to your outfit, which will have you looking like a street-style star and not a schoolgirl.
Play with proportions
For a fashion-forward look, be sure to play with proportions when styling your over-the-knee socks. Keep your look conservative, by wearing layers such as a long coat and cardigan over a dress or skirt.
Go short
To create the perfect layered look, you need to show where your over-the-knee socks end and allow your tights to show. Opt for skirts and dresses that are reasonably short and combine with longer, and more conservative pieces. 
Layer them under boots
Switch up the look of your high boots with a hint of sock peeking out the top. Over-the-knee socks can easily fit under a pair of high boots and will provide additional warmth.
Opt for heels
Combine over-the-knee socks with a pair of booties that have a bit of a heel to instantly lengthen your legs. Again, this little detail will allow you to look more mature and will keep your look proportional.
Will you be wearing over-the-knee socks this season? Tag us on Instagram to show us how!
Xo,
Rachel
Related Articles