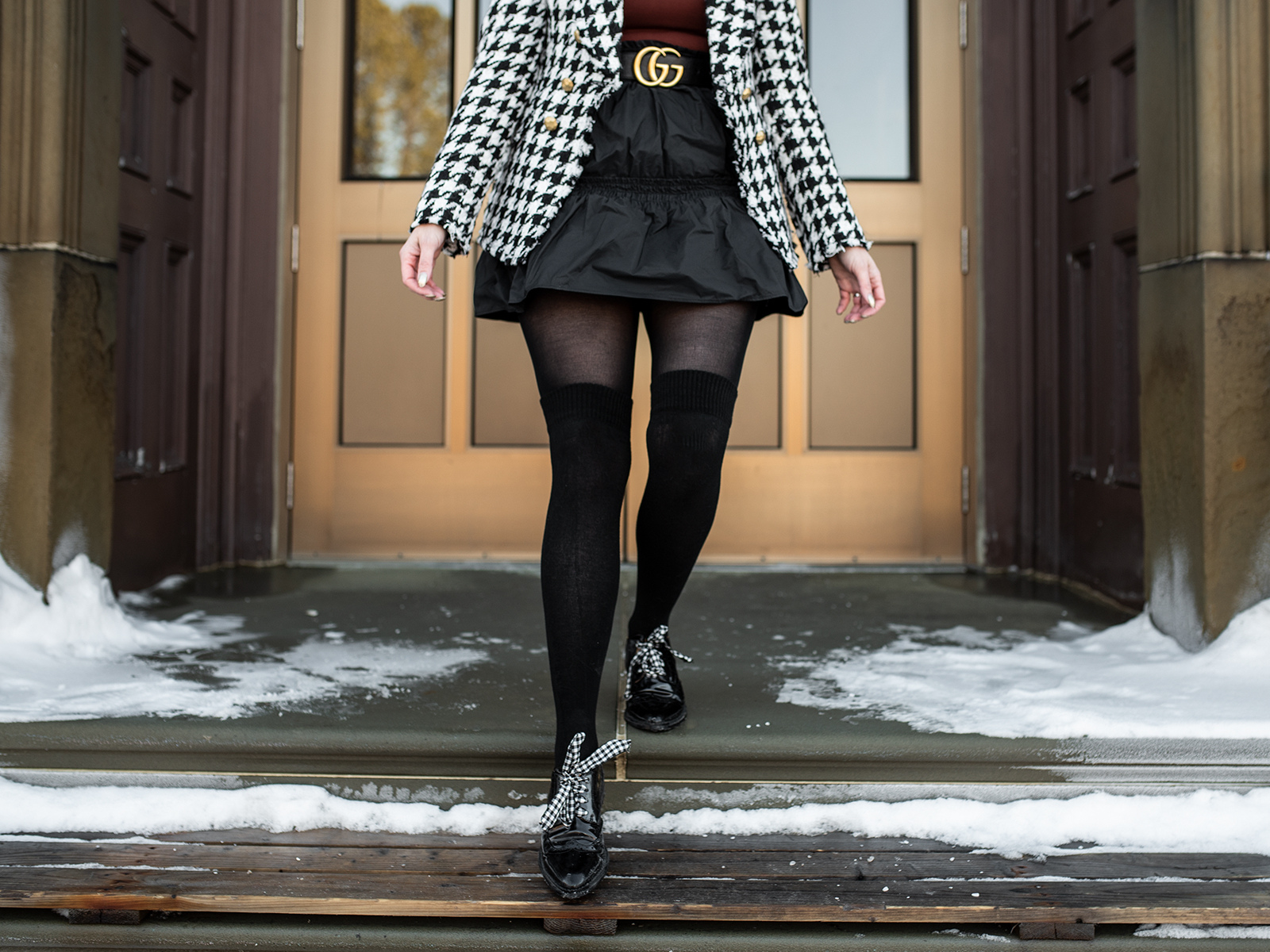 Jan 29, 2020
How to Wear Winter Tights: 4 Styling Tips
When the temperature starts to drop, it's easy to constantly resort to a winter uniform consisting of jeans and sweaters, but winter tights can keep you just as warm. Winter tights are way thicker than your typical sheer nylon tight and instead come in materials like merino wool or cotton.
Winter tights can be your best ally to beat the cold this season and allow you to vary your wardrobe, and wear your favourite skirts and dresses. Since winter tights are thicker and often come in various knit patterns like herringbone, they can be more intimidating to style, however.
Fortunately, I have some foolproof styling tips to help you wear winter tights with major style.
Here are 4 styling tips to help you integrate winter tights into your cold weather wardrobe!
Play with materials
Winter tights pair well with many different materials. Some of my favourite combinations include winter tights with other knit items like a sweater skirt or sweater dress, or even leather and denim. Play with materials to create an all around look that can go from running errands to Happy Hour.
Opt for high heel boots
Since winter tights are thicker they can also feel more bulky. To elongate your legs and pull off a look that's comfy, but professional, complete your look with a pair of high heel booties. They'll help your legs look leaner and provide extra style.
Add colour
Winter tights also often come in fun colours like plum and burgundy. Add a fresh hue to your wardrobe with a pair of colourful winter tights. Opt for fun winter colours that aren't too harsh and you'll have a winter outfit that's anything but boring.
Layer up
The perfect winter look starts with winter tights and is topped with lots of layers! Combine your winter tights with a sweater dress and top your look with a long cardigan or jacket. The extra layers will help keep you warm and will leave you with an outfit that's stylist approved.
Will you be wearing winter tights this season?
Xo,
Rachel
Related Articles