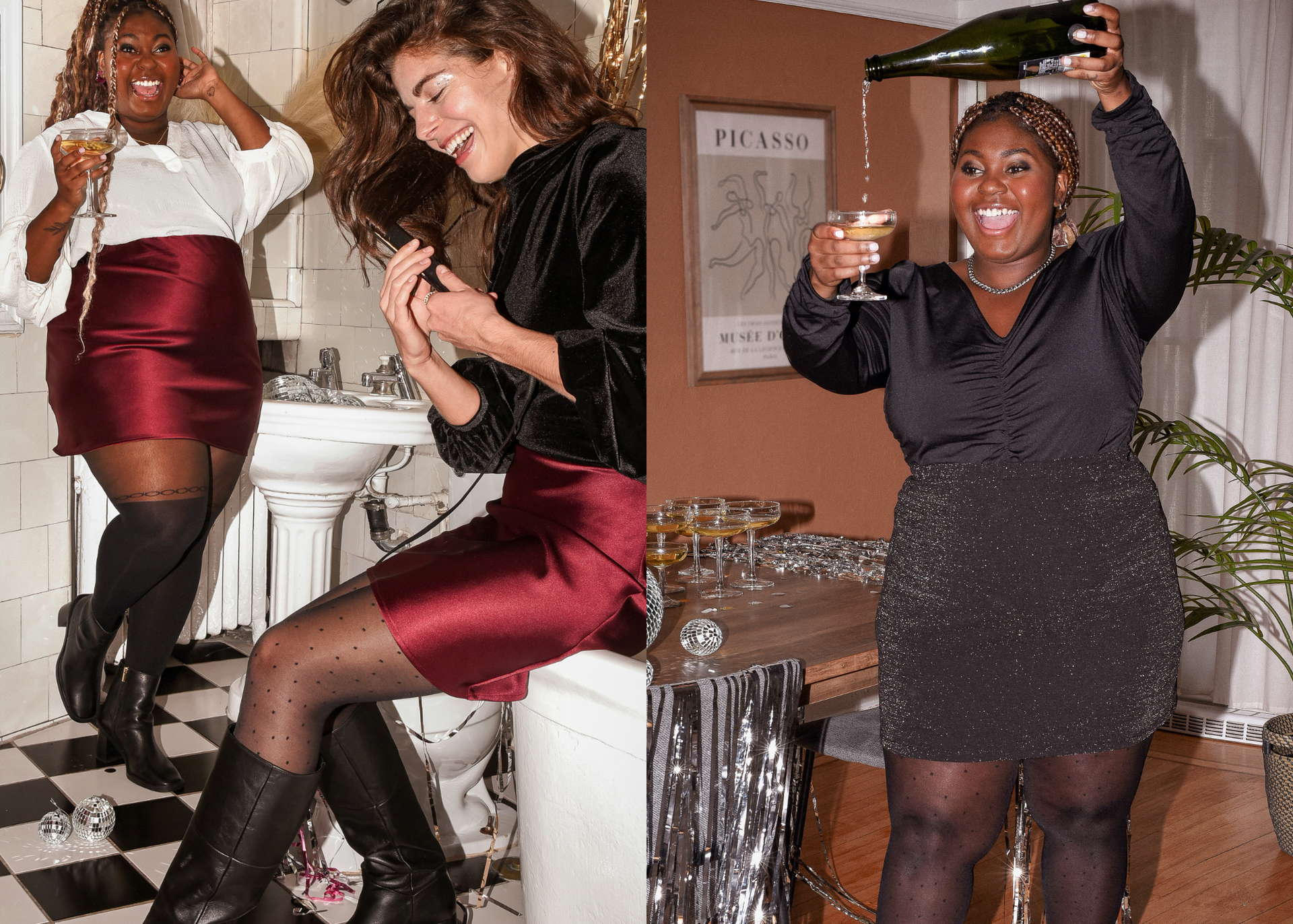 Dec 08, 2022
Your holiday wardrobe essentials
The holiday season is fast approaching and many of us are looking forward to it. As we all know, in 2020 and 2021, we have deprived ourselves of family parties and big celebrations. In 2022, we all want to celebrate like there's no tomorrow! That's why it's already time to prepare some outfits for the occasion.

A wardrobe for the holidays is refined over the years. On the other hand, it is always useful to update your essentials. To shine as a woman at the end of 2022, we're glad to present to you Rachel's new holiday collection!

To wear an outfit with ease and class, you must also be comfortable in your clothes and Rachel is all about that. We have everything you need to create your Christmas outfits and celebrate in style: all you have left to do is choose your accessories. Let's go!
Festive skirts: we're loving shiny fabrics!
When it comes to a party night, we love to bring out sequins and metallic fabrics. It's the time of year when it's feels good to shine (anyway, it will never be excessive as long as you feel good in your clothes!)

If you're nostalgic this year, shiny fabrics will take you back to wild parties. Shine is back in force this year and we're loving it! This season, sparkly fabrics have invaded fashion shows as well as the windows of the big brands.

This season, Rachel offers you a range of skirts perfect for your most festive events: the satin skirt, first, is ultra trendy and it is now a classic at Rachel. Get the blue Midi Layla Satin Skirt and pair it with a black top, heels and silver jewelry. If you prefer the classic black satin mini skirt, choose gold jewelry and then match it all with a top in a different material.

You can also dare to add a sparkling touch to your look with the Margot skirt, which will bring a touch of magic. By choosing a sparkly skirt, you will shine effortlessly!
Elegant hosiery
Comfortable, stylish and pretty, tights are the essential women's fashion accessories to have in your wardrobe. Do you need elegance (and comfort) to protect your legs from the winter cold? Tights will be your best ally this year to complete your outfits and beautify your legs.

Nylon stockings are constantly reinventing themselves. They can be worn with your festive skirts or with your favorite dresses for the holiday season. The choices are endless: whether you need chic tights for your family celebrations, your work events or your family weekends at the chalet!

Rachel offers a wide variety of pantyhoses to suit all tastes and budgets (take a look at the sales section, you will be pleasantly surprised!) Back seam tights will bring a little romantic and original touch to your outfits, even the simplest ones. Glitter Backseam Tights are definitely a must-have for the festive season! The collection of over-the-knee tights (that we call OTK) is a timeless classic at Rachel. In this magical holiday season, you can choose the OTK Lace crown Tights, one of Rachel's best sellers, or even the OTK Glitter Tights that are more than perfect for the holidays.
Warm clothes for the weekend getaway
Are you planning to take a vacation at the cottage this winter? Nothing is more pleasant than enjoying fresh air, getting away from the big city, putting on cozy clothes and taking care of yourself. This is good news since a new collection of cozy and warm winter tights has arrived at Rachel. Even away from home, we all love being comfy without compromising our style, don't we?

Several items in this collection are made of merino wool, known for its softness, comfort and warmth. The one used by Rachel is responsible merino wool, also called "Mulesing-free", which holds an ethical certification that respects the welfare of sheeps and ensures sustainable land use. Rachel offers a range of opaque tights as well as thigh-high socks made with this responsible wool, which go wonderfully over patterned tights. We particularly love Black Responsible Wool OTK Socks: it's a big classic here at Rachel!

To stay cold-proof in style, you can also give your looks a little texture by opting for ribbed pattern tights, made of recycled nylon. We love its trendy ribbed pattern that goes well with everything!
Finally, you will also find a range of opaque tights, with a higher denier, in several colors. From classic black to more colorful tights, Rachel will keep you warm regardless of your preferences.
Rachel wishes you a great holiday season! Feel free to share your outfits via social media - I love seeing your choices!
xo
- Rachel
Related Articles